Look and Feel

Easy access Options menu to:
Adjust UI size
Switch between Light and Dark modes
Change HiDPI / Retina parameters
And more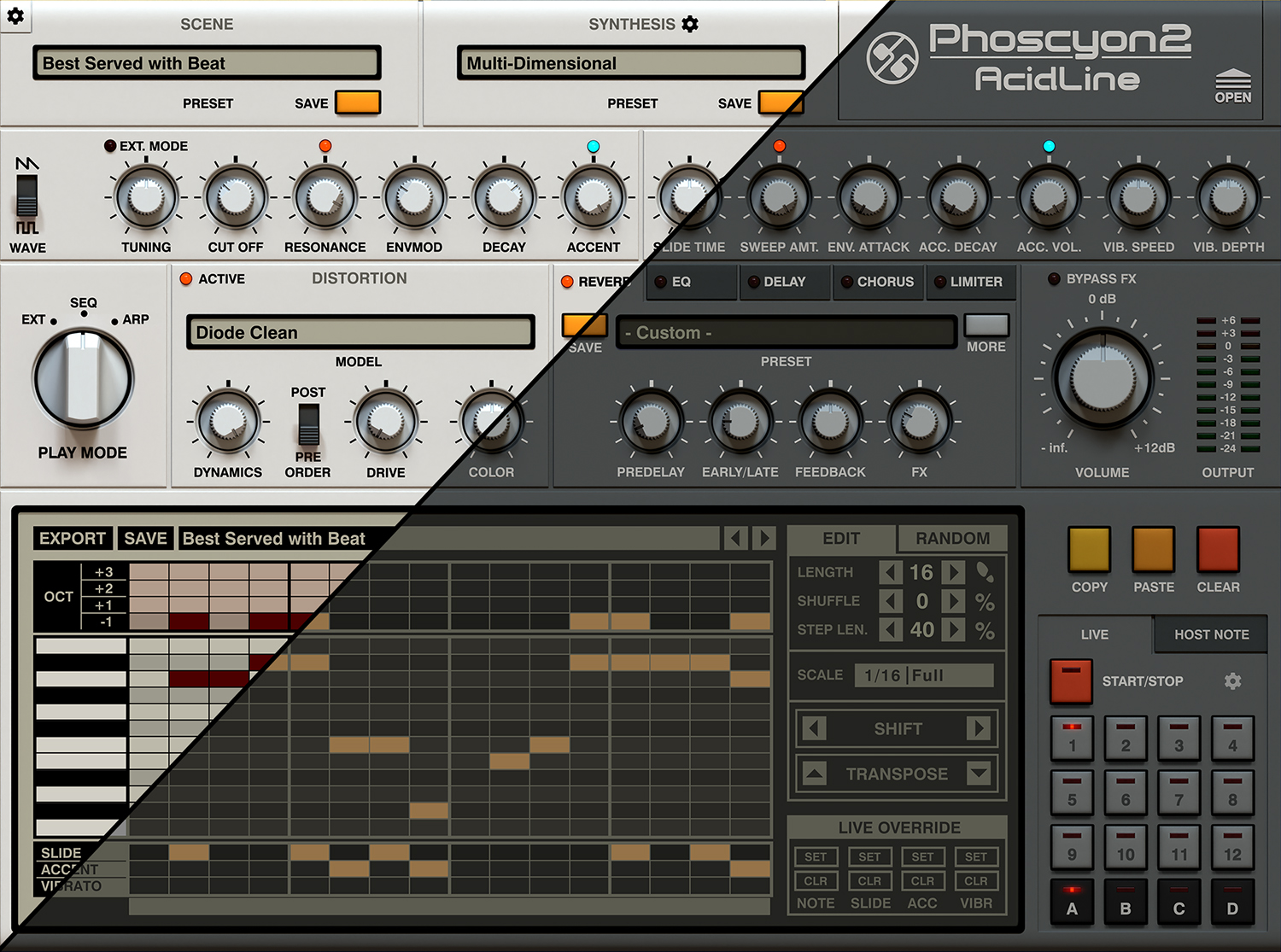 ---
Not just one, but every 303... under your fingertips

Sometimes, you might wonder why your 303 unit doesn't have as low a cutoff as you can hear on one of your favorite tracks...

Diehard 303 fans know every 303 has a distinctive character, and now you can replicate that using Phoscyon 2's Calibration Parameters. Not only do you have easy access to the familiar synthesis knobs, but you also get a backstage pass to the inner workings of the synth; we've included the service trim pots, originally designed for calibration, and some tweaks even owners of the original silver box couldn't have dreamt of.

In short, it's a gateway to an entirely new dimension of control and musical expression...

---
Vibrato novelty

You won't find this in even the most twisted 303 modifications out there... vibrato effect. Used only by a handful of 303 artists in their work, and achieved in a unique way. The original trick uses a two-note tremolo which is smoothed by note sliding, resulting in a distinctive 303-style vibrato. Phoscyon 2 replicates this process in a more intuitive fashion so you can achieve the sound with just two knobs.

The vibrato effect relies on two alternating notes rather than an oscillator, so the two-note spread decides vibrato range and the note duration dictates the speed.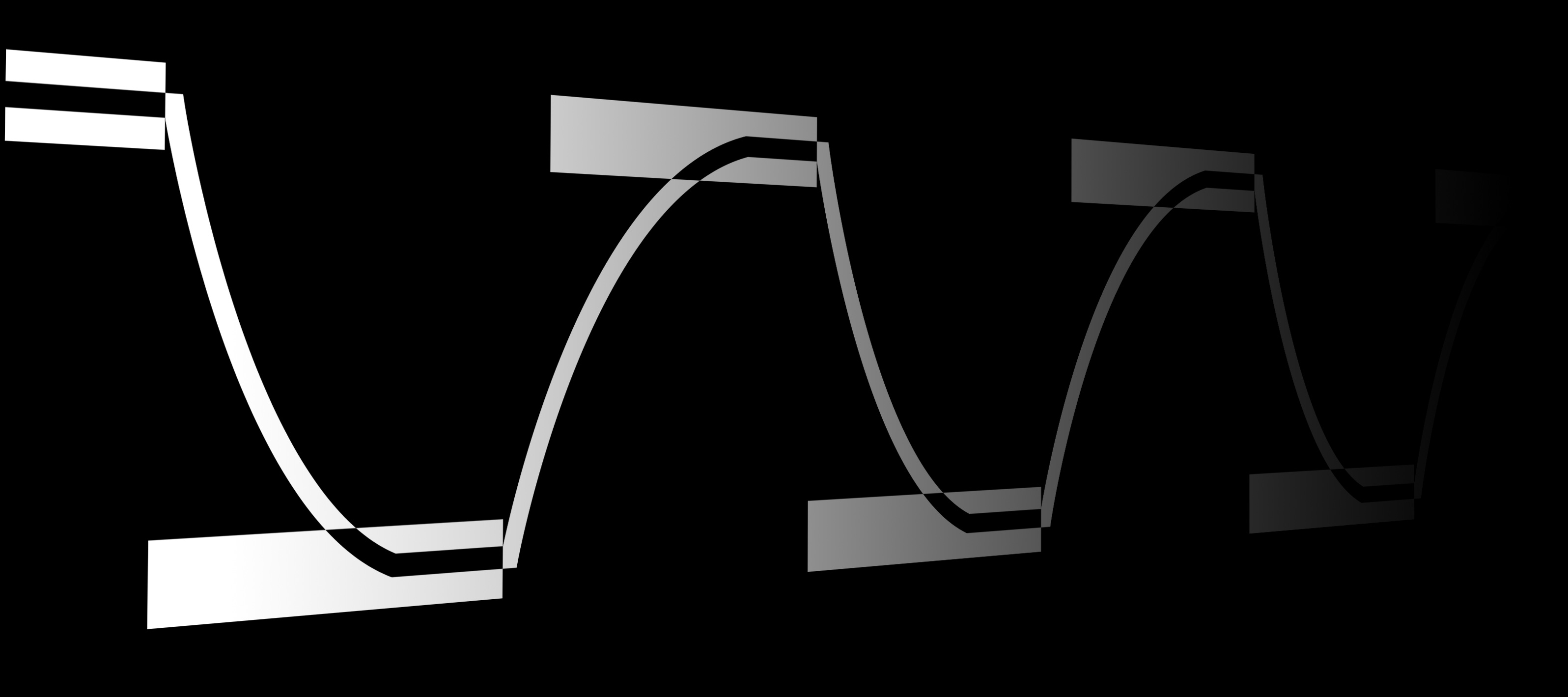 ---
Beyond the original

Besides the parameters you can find on the original 303, there are also a bunch of knobs that most of you know and love from popular mods and circuit bends within the 303 community.
---
The distortion

Distortion is the most important effect in the chain. Our implementation contains a selection of 19 distinctive-sounding models, based on famous hardware units that are notorious with the most recognizable 303 artists.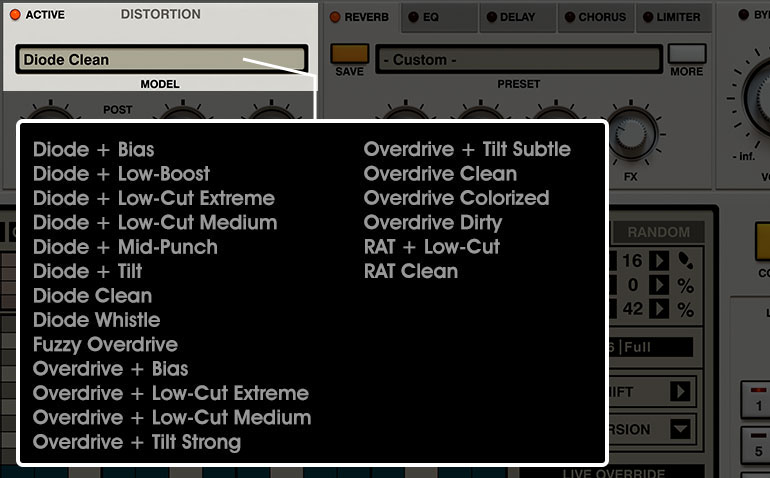 ---
Reorderable insert effects

You can shuffle effect order with ease to get extra flavors and make great-sounding riffs out-of-the-box.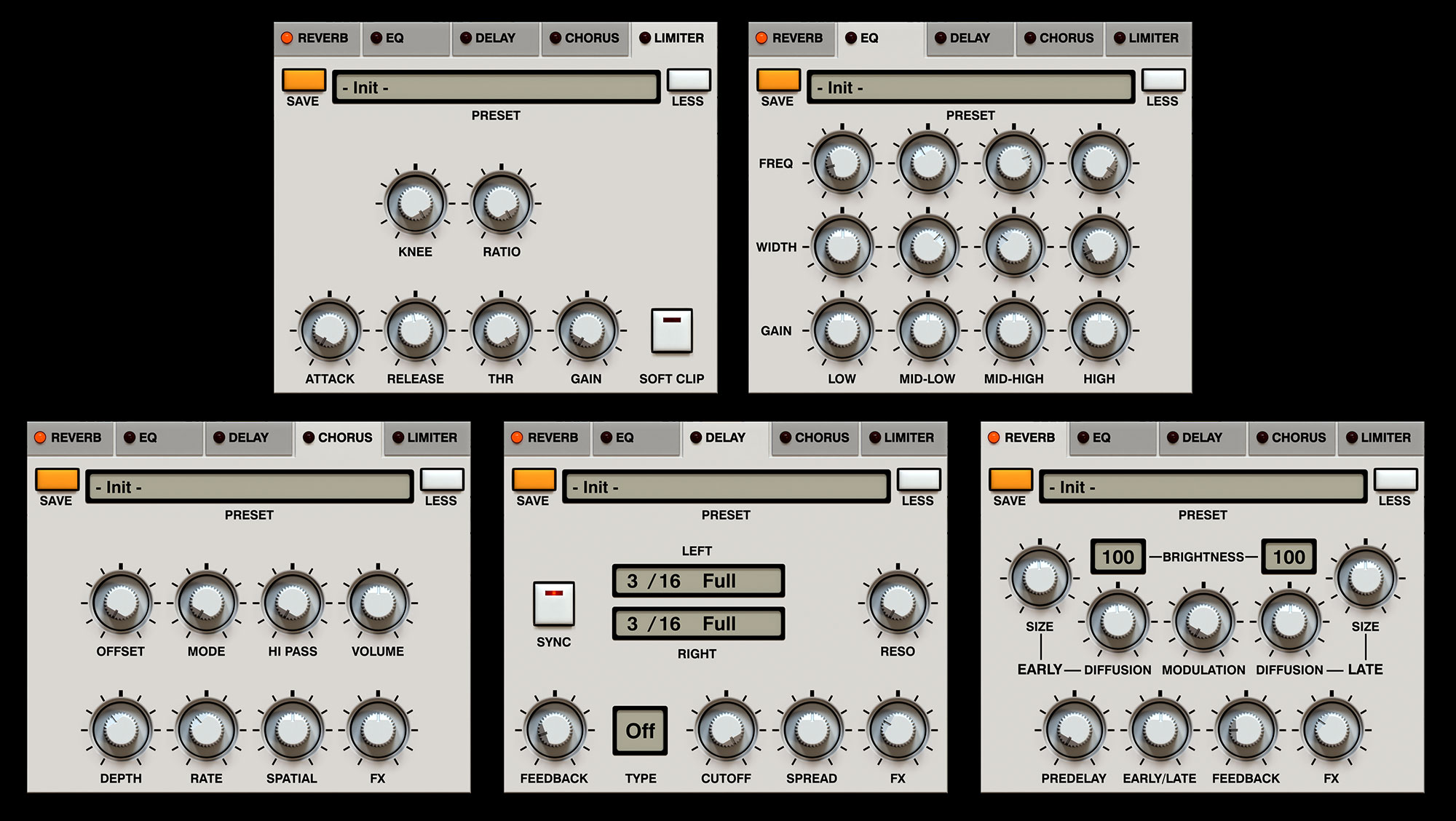 ---
Live override

Give life to your patterns by influencing Accent, Slide or Vibrato while playing.
---
Drag-and-drop export

Once you've got the perfect pattern, you can seamlessly import it into your favorite DAW by simply drag-and-dropping it.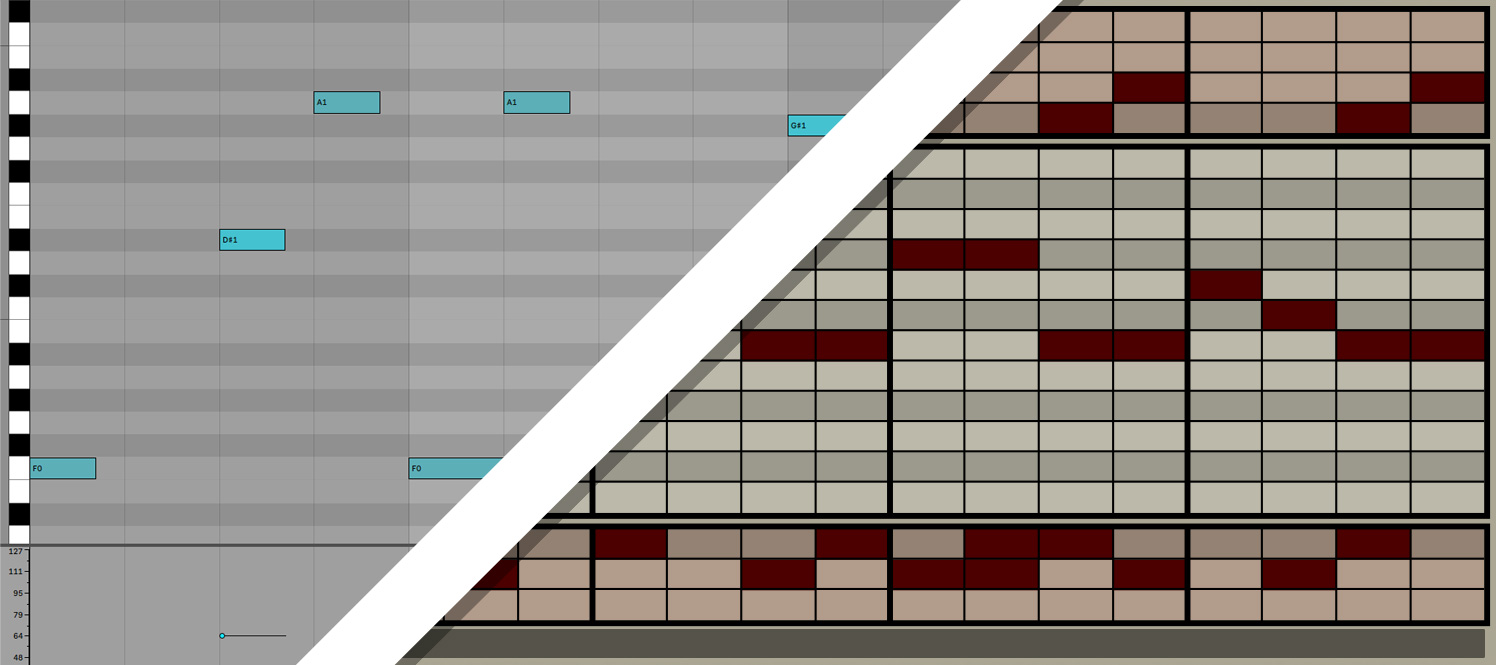 ---
See where you are with one glance

Some hardcore 303 fans have learned to love the limitations of the original sequencer and now consider them part of their workflow. Others prefer a more modern approach to sequence editing.

To meet the needs of both types of people, Phoscyon 2 features two different modes to control the sequencer.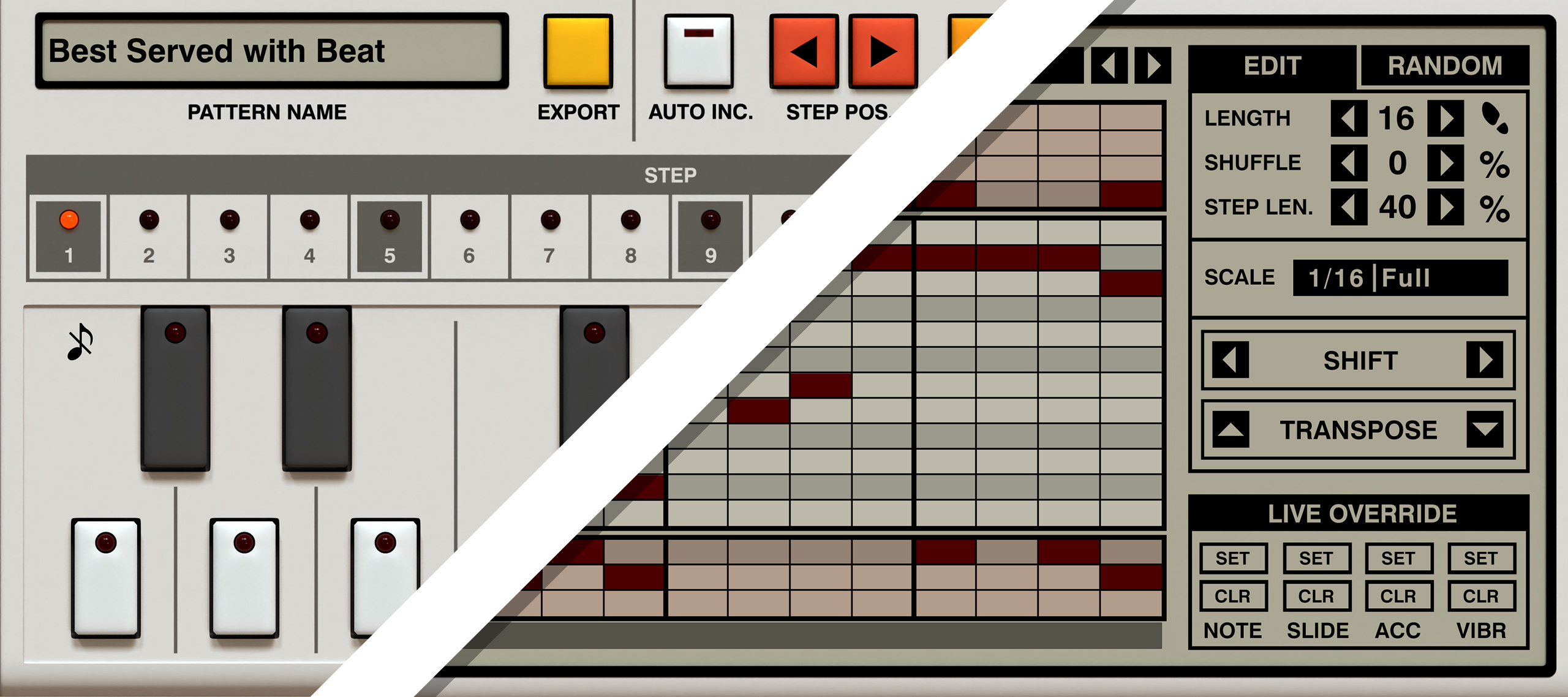 ---
Music roulette

A new randomizer feature has been seamlessly integrated into the internal sequencer, allowing you to switch easily back and forth between randomizing a sequence and editing it.

You can decide which notes and step attributes are randomized with real-time density control for generated sequences.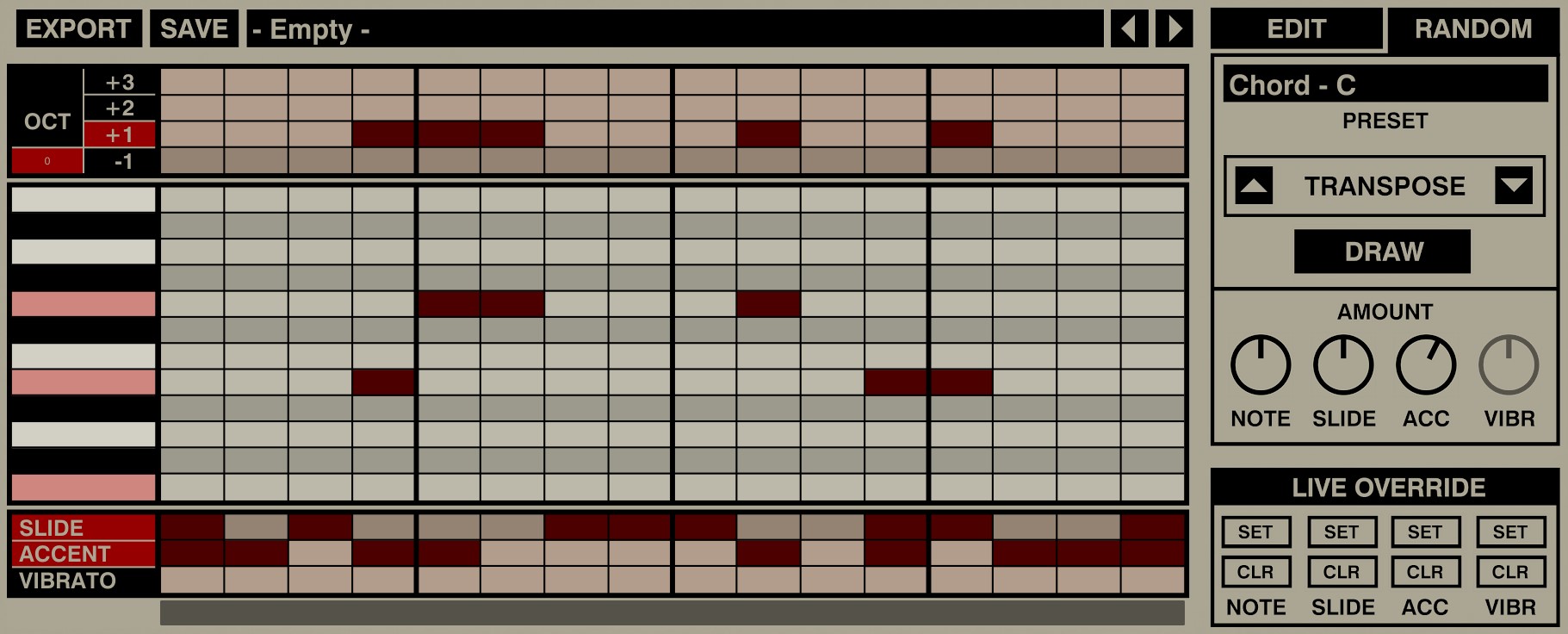 ---
A variety of trigger modes

Use a pattern trigger mode that suits you: MIDI notes, MIDI CC or GUI.
---
Arpeggiate to get more sophisticated and deliberate motives

It's not typical, boring styled arpeggiator with few travel modes that generate the obvious note runs that are completely unpredictable while playing.

You get an advanced tool where you can prepare a "template" of your riff that's a basis for more production-predictable sequences as the result.